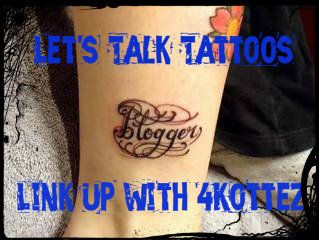 Today I am linking up with the lovely
Melanie
to discuss tattoos. Whatcha got, when ya got them, that sort of thing. As usual, I'm going to be wordy so brace yourself.
When I was younger and through my 20's I never thought I wanted a tattoo. I just couldn't think of anything that I wanted permanently on my body. My sister Rachel (always the rebel) had already gotten 2 by the time she was 21. I did manage to get my belly button pierced and I thought I was hot shit, but then I got pregnant with Hannah 6 months later and ended up having to take it out.
As I got older, I have been drawn more and more to tattoos. I am fascinated by people that have them and what they choose to put on their body. I finally decided that I wanted to get one, but then came the tough decision - what to choose. I ended up doing a lot of research (time spent on the Pinterest tattoo board) to see what I was most drawn to. I had a lot of ideas, and still do, but couldn't really land on a final piece. It doesn't help that I am the worst decision maker ever. Don't even ask me where you want to go out to eat.
During my search, I noticed that I was really drawn to tattoos of trees, so naturally I decided to go with a tree design. I also knew that I wanted it to be on my right hip. I printed out my favorite images and contacted a local tattoo artist and set up my appointment. The whole process took about 2-3 hours and I was really pleased with the result. He even added 5 flowers in for my 5 girls. He said that the tree has their initials hidden in it, but I haven't found them yet. It was done by Jason Saint at
Mercy Seat Tattoo
in Kansas City.

Please ignore my old lady hand
Needless to say, I'm already planning my next one. I would really like to get a rose even though that is cliche. Rose is my middle name and it is tradition in my family to give the first born daughter the middle name Rose. I also want to get a memorial tattoo for my mom, but can't figure out exactly what I want it to be. Maybe next year...
I also wanted to give you a peek at Jason's tattoos. I gotta tell you, there is almost nothing sexier than a man with tattoos. Except for those occasional douchey ones. You've all met someone like that. Anyway, he already had two on his back when I met him and has since gotten two more. His plan is to be completely tatted up by the time he's an old man. Working in corporate America tends to limit your tattoo locations, though because bigotry and prejudice still abound.
He has always been a huge fan of Gil Elvgren pinups and decided to get one of them on his calf. He got this done at a tattoo convention in KC when I was pregnant with Emmeline.
He just completed his half-sleeve this summer and it is bad ass. It took three sessions and a total of about 9 hours, but it was worth it. It and the pinup were both done by the talented Lars Van Zandt at
Iron Tiger Tattoo
in Columbia, MO.
So that's it. I'm sure you'll be hearing about it when I get my next one, provided I can decide what I want. Looking forward to reading about everyone else's.