The Elsa post is a lot harder for me to write than I thought it would be, so instead today I am linking up with
Marcy
,
Jenna
and
Lori
for Fat to Fit Fridays.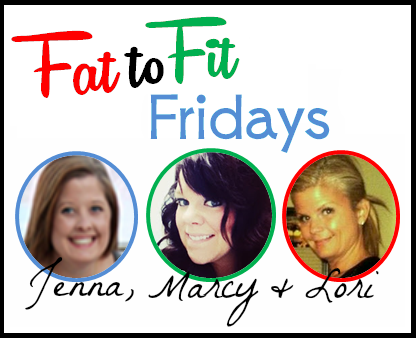 I have been stuck in a plateau for about 2 months now. I have been hovering right around 145-147 lbs and it hasn't been going down. I did have my own personal "cleanse" last Saturday after having some beers Friday night and saw 143 on the scale, but that didn't last too long.
I have just been having a lot of trouble with motivating myself to get off the couch and work out. Last week, I started back up on Jillian's Ripped in 30 and I was doing so well. I managed to do it every day with one rest day. This week, I did the Week 2 session once on Sunday and I haven't touched it since. After all the muscle pain I went through the first few days, you'd think I wouldn't want to quit and go through that again. Nope, it is just too easy for me to talk myself out of a workout, especially when it is 9:00PM and all I want to do is veg on the couch.
Last night, I talked Jason into making dinner (even if it was homemade pizza) and I got my running gear on and got my butt on the treadmill. I ran for 38 minutes and depending upon whether you trust my Nike+ app or the treadmill, that was either 3.5 or 2.8 miles. Nike+ app says I'm running 11 minute miles, the treadmill says 14 min miles so I'm just going to average. If spring ever decides to get here, I'm going to get outside to run and see what my pace really is. I'm just too big of a wuss to run in cold and snow. I'm no
Kate
, here.
This week, I also had the chance to do a little shopping at Old Navy since I had a $25 gift card burning a hole in my pocket. I tried on a few dresses and some shirts and ended up buying a size Small in everything. I cannot remember the last time I was ever a Small. When I was hanging up my purchases, I decided to try on some of the other dresses I have in my closet. Most are a size 12/14 and they were enormous! I couldn't believe that they were just falling off of me. Such a revelation to me about how far I've come.

February 2012

I got the orange one and the green one
Sometimes, I get caught up in the little minute details of day to day life and I really just need to take a minute and look at the big picture. Does this plateau suck? Absolutely. Does this negate everything I've done so far? Absolutely not! It is just a matter of getting out of my own head and not letting me talk myself out of working it when I know that I will regret it in the long run. Maybe I also need an accountability partner. Hmmm...
What are some of the things that keep you motivated? And who wants to be my annoying friend to text me about working out?