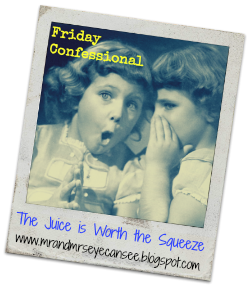 A little confessional time and then I'll announce the winner of the giveaway.
I was really touched by all the sweet comments I received about my post yesterday. Infidelity isn't an easy thing to talk about, but everyone was so supportive. I love you guys.

I have not lost any weight this month, I've actually gained a pound. But, other than losing $35 in my Dietbet, I'm okay with it. My choices led to this and I can't be mad.
I'm getting to the point where I'm good with my body. Sure I still have issues, flabby tummy and loose skin but I know what I need to do. Jason actually told me that I had a smoking hot body this morning. God I love that man.
I will only have two of the girls with me this weekend so I need to think of something to do. Cordie has a birthday party to go to and Hannah has some college prep class she signed up for. It used to really bother me when one of the girls skipped a weekend, but I know it isn't malicious. They're kids, they have friends and activities going on. I'm cool with it. There is always the phone and Skype.
Emmeline is now hyper aware of the weekend when her sisters are here. When I got home from Target last Friday night, she came running in the kitchen and looked down the stairs yelling for her fwiends. Killed me. So sweet and heartbreaking at the same time.
Potty training is going so-so. It is getting better, but still struggling with her peeing in her pull-ups. We were out at a restaurant last night and she announced that she had to go potty. We went to the bathroom and I tried to help her pull down her pants, but she swatted me away and yelled, "I do it!". The battle cry of the 2 year old. However, she hemmed and hawed so long that by the time she actually pulled her pants down, she had already peed. At least she is making the effort, I suppose.
We did eat Mexican last night and it was delicious. I had Chicken and Avocado Enchiladas, but I did not scarf down the whole plate so I have leftovers for lunch today. Progress, people.
And now, this winner of My Favorite Places Giveaway is: Amanda Schuller
Thanks everyone for entering! I had a lot of fun putting it together. Anyone have fun plans for the weekend that don't involve snow?