Today, Elle Noel, Sarah and Kassie are hosting a "Meet My Other Half" linkup. Since this coincides with a post I had already planned on doing, it is win-win. Before we get started, however, I just have to wish Jason a big Happy Birthday! (It was yesterday). Sorry that we had to sit across from the Teen mom twins at Olive Garden last night.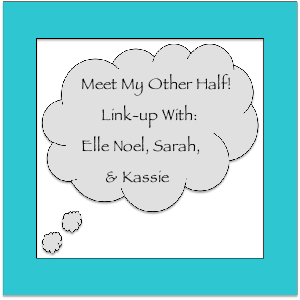 Linkup questions:
1. What are your thoughts on your wife's

girlfriend's

blog? I'm all for it. One of us needs to have friends.
2. Do you know what IG stands for? How about OOTD? IG=Instagram; OOTD= Out of touch dude
4. Does her working out and eating healthy make you want to join in? No, but I know when I make the decision to start, I will have all the support I need.
5. Is there anything she can do to inspire you to workout/eat healthier? Threaten to leave me.
6. What do you love best about fit/ healthy life? Posting pictures of myself working out on FB and IG.
7. What do you like least? How much time do you have?
8. How long did it take for you to agree to answer these questions? 42
Other questions provided by readers (I threw a couple in of my own, too):
Funniest thing about "blog moms"? Everyone is sooooooooooooooooo nice and totes hilarious! OMG!!!!!!!!!!!!
Favorite outfit you wear? shirt and jeans
How many tattoos do you have? Not enough
What is your dream job? Librarian
How do you handle yourself when you have all the girls at your house? I take a lot of naps. Do you feel outnumbered? No
Favorite thing about being a dad? Getting to say all the bullshit my Dad said to me, to my kid. "Because I said so, that's why!"
Favorite thing about Amanda? Boobs
Do you like music? Yes
Do you like books? Yes
What is your favorite color? Heather gray
Anything else you want to add? No
Short and sweet and to the point. I don't call him a self-proclaimed asshole for nothing. If anyone thinks of any more questions, just post them in the comments and I'll make sure he gets back to you. Oh, and you might make his day if you mention Star Wars or Battlestar Galactica. I'm just sayin'.