I have been a terrible blogger lately. My blogging mojo just jumped out the window last week. Sorry about that y'all. Let's play a little catch-up, shall we?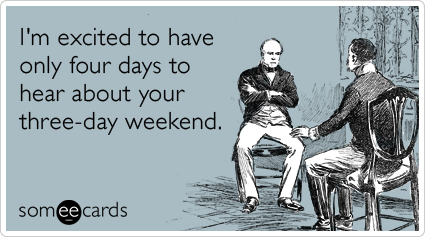 The pain that I was having as a result of running/walking 13.1 miles is pretty much gone. My hips hurt really badly the first few days so I just kept stretching them out. I haven't worn heels at all because I was getting shooting pain along the outside of my left foot, but that hasn't bothered me in a week. I was also having some ankle pain on my right foot so I pretty much have not run at all in a week and a half. I'm ready to get back into it, though. I am signed up to run the
Starry Night 5K
with
Darci
, so I am ready to get my run back on!
I had planned on starting the
300/30 Ab Challenge
that Holly is hosting, but kind of got derailed on that one. On Thursday, I went back to the dermatologist because she wanted to remove some additional tissue around the mole that came back with abnormal cells. I was thinking it was going to be a simple procedure similar to the mole removal. WRONG. She cut out a half dollar size of skin and tissue and I have two layers of stitches. Ouch. I was also given strict instructions not to do strenuous exercise that could possibly pull out the sutures. (The area is on the left side of my back, just under my shoulder blade.) I'm supposed to play softball next weekend, so that will be interesting.
Surgery aside, I did have a really great holiday weekend. We had all the girls and we drove across Missouri to visit my parents' house. They live in a rural area about an hour north of St. Louis. Their house is out in the country and there is pretty much no cell service at all. I did have fun on Sunday walking around the yard trying to get a signal so I could respond to some text messages I was getting.
The girls always have a blast at their grandparents' house and I really enjoyed the visit. My step-mom was diagnosed with breast cancer last November, but it was caught really early so they didn't have to a mastectomy. She just finished up chemo and is currently doing radiation, but hasn't let it slow her down. That woman goes non-stop with housework and cooking and taking care of everyone, she makes me tired. I'm pretty sure I gained the usual 5 pounds with all the good food that they have too.
I did get to see one of my step-sisters who lives in Seattle, so we had a nice visit. My sister and brother-in-law who live in Chicago also came down for the weekend, so it was a full house but that always makes it more fun, in my opinion. My little nephew ended up getting sick, though and they had a fun little trip to the ER on Monday morning to discover that it was just a virus. Poor little guy, he seemed to be feeling a little better when we had to leave. He was a little overwhelmed at first with all the girls (he's 14 months old), but they had a lot of fun playing with him.
We had a great visit, but it is always nice to come back home and sleep in your own bed. No surprise, but I did not want to get up and come to work today. That seems to be every day, though. Still on the hunt for that dream job.
Anyone else travel for the holiday weekend? Get in some family time?