Good morning campers! I am linking up today with
Holly
and
Trista
to talk about a few things I'm doing/want to do this summer.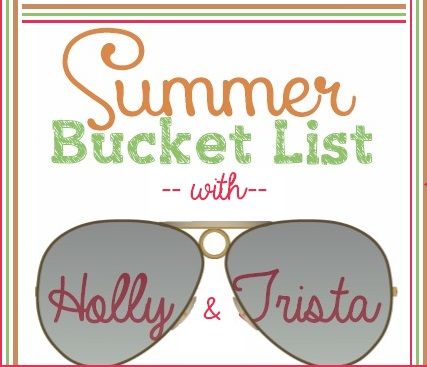 First up we have my 39th birthday in a mere 8 days. The very last year of my 30's. My 30's have been pretty good to me although I absolutely hated being in my early 30's. Now that I am older and wiser (and thinner) the 40's aren't looking too bad.
As a birthday present to myself, I am planning on getting a new tattoo. I'll keep the deets a surprise for now, but rest assured I'll be posting it on IG.
We are heading down to Joplin in a couple weeks to visit with Jason's family. I also will be meeting up with Darci for a fun nighttime 5K.
Later in June (such a good month), I'll be heading to the Lou to meet up with
Holly
,
Mel
,
Kimmy
,
Marcy
and
Ashley
. To say I'm excited is the understatement of the year. It is going to be the best weekend EVAH!
That's about it as far as planned activities for the summer. I really want to take a vacation with the girls, but where and when is still undecided. I also want to travel down to Dallas this summer to visit with my family, but also maybe meet up with
NerkyMeg
. Girl cracks me up.
I'd like to get some more races under my belt and begin my official half marathon training (didn't you just run one?) so I can improve my time and endurance.
Other than that, it will be lots of lazy weekends at the pool with my girls which are always the best kind.
What are your plans for the summer?