What is it about the drudgery of returning to work that makes Monday morning so difficult? Add pouring rain into the mix and it is even harder to get out of bed. Jason was nice enough to drive this morning though, and the combination of warm car and rain put me to sleep as if I had taken a sleeping pill.
I did have a nice quiet weekend and even managed to take at least one shower. Saturday was a real lazy day even though Emmeline decided she needed to be up as 6:30AM. I was not pleased. She got in bed with us, but there was no way she was going back to sleep and she kept wiggling and kicking so we just got up. We watched a couple movies and had some snacks and then we finally decided to get dressed and go to Costco. Once we got there and started shopping, though, we noticed them turning off some of the lights. Turned out they were closing. I was like, "how did I not realize that Costco closes at 6? and what kind of grocery store closes at 6PM on Saturday?"
We didn't feel like going back home yet so we headed up to Zona Rosa, which is an outdoor mall near our house. Emmeline got to play on a little playground and get out some pent up energy and then we walked around a bit. Had some dinner at 54th Street Bar and Grill and enjoyed the time out of the house. I did decide that I need to start reading some news websites because Jason and I don't have a lot to talk about. Living and working together does have some disadvantages.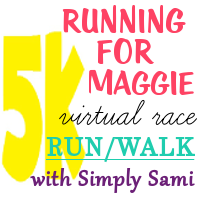 Sunday I knew I wanted to get my 5K in since I promised I would do the
Virtual 5K for Maggie
that was being sponsored by
Sami
. I thought it was a lot cooler outside than it actually was so I wore a long sleeve shirt. Totally didn't need it, but I wasn't too sweltering. I had previously mapped out a route around my neighborhood that was 3 miles, so I just followed that with one deviation. I did not want to tackle the giant hill that was a couple streets over, so I detoured the other way. Worth it. I forgot to print out the race bib to wear, so I just pulled it up on my iPad for the end picture. I had also forgotten to change my Nike+ app from inside to outside so I feel like the time was a little off since I don't typically run that fast. I do have to say, though, it was a huge motivator for me to hear I was running a 10 minute mile versus my usual 12 minute mile. It really made me want to keep going. Weird how that works out.
Photobomb by Emmeline
We did eventually make it to Costco and spent way too much, as usual. But, now we won't have to grocery shop for a while, so it evens out. I promise I will get back into consistent blogging again. I have noticed that the less I blog, the less I exercise and I don't want to gain those 30 pounds back. Accountability for the win!