Not too much going on today so I thought I'd join in on the latest installment of
Jake
and
Holly's
Finish the Sentence linkup. You'd think they'd run out of sentences by now. And does anyone else want to go out and buy mint pants to match these two?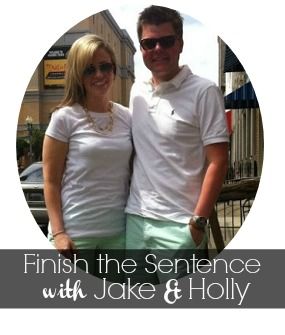 My happy place... is out in the sun. I seriously am like a cat, I will find the sunniest spot and just soak it all up. Our house is really dark too, (because Jason is a hermit) so you gotta catch the sun at just the right time. We also have a little group of waterfalls on campus at work that I absolutely love to go and sit by. It just makes me feel peaceful.
Whatever happened to... bathroom privacy. I haven't peed in peace in years. Also, if you go into a public bathroom and there is one occupied stall and nine other empty ones, don't pick the stall right next to the occupied one! Back the fuck off, people! This is a common occurrence at work and it pisses me off every time.
So what if I... signed up months ago to run a half marathon nine hours away from where I live. I don't need to train for it. Pshaw. As
NerkyMeg
would say, "shit bitch, you is fine".
E! needs a reality show about... is there anything they haven't made a reality show about yet?
My go-to fast food meal is... burger and fries. Why else would I get fast food? To get chicken? Please.
You might not know that I... got to study in France for six weeks during college. One of the best experiences of my life, hands down. Not including the day I was super hungover and got conned into paying 100 francs (this was pre-Euro) for some guy to tie string around a piece of my hair.
The hottest quarterback in the NFL is... don't know, don't care. I don't watch football and neither does Jason so I have absolutely no frame of reference.
If I could... free myself from the belief that I need money to be able to do things to make me happy, I would be a lot happier.
My personality is awesome because... I'm like a ninja. I'm the silent friend that sneaks up on you when you weren't expecting it.
Twerking is... just another weird fad. I'm sure it will go the way of the Macarena eventually.
I think it is super gross when... This is a tough one for me. Not a lot of things gross me out, but I really don't like disembodied eyeballs. Yuck. Or the thought of a bug laying eggs in my ear really skeeves me out. Creepy stuff like that get to me.
Someone needs to tell Miley Cyrus... lose the bears. They are weirding people out.
That's all I've got for today, hopefully I can finally win one of those gift cards. Happy Wednesday!