Happy 2013 Everyone! I hope you all had a happy and safe New Year's Eve. Me, I sat on the couch and drank champagne by myself. I really know how to party.
So, maybe it didn't end all that great, but 2012 was a pretty good year for me.
I started blogging! And I have had the great fortune to meet some wonderful women, both online and in person.
From the STL Blogger meetup



I finally got a new car this year, although my old one had to be wrecked in order to do so. Now, we have a vehicle that can seat all seven of us!

I got a new position within my company, then due to a lot of down time with said position, I discovered Mama Laughlin's blog and read it from start to finish. I finally got the motivation and determination I had been lacking to start working out and eating healthier. As a result, I have lost 30 pounds.
I started running, which is something I have never had any desire to do. I can actually run three miles without stopping. I have run/walked two 5K races now and plan to run some more.
I feel like I am in the best shape of my adult life. I can actually do push ups now!
Looking ahead to the new year, I have some things in mind that I want to accomplish. I'm not really making resolutions as those tend to go by the wayside. Instead, I'm more interested in laying out goals.
I want to fully run a 5K with no walking. If I can do it on the treadmill, I can do it during a race.
I am going to run my first 10K. I have already signed up for the
Groundhog Run
on January 27 so I've got less than four weeks to train.
I am starting the
Hal Higdon's Half Marathon
program. Now, I haven't committed to running a half marathon yet, but I thought the program would be a great place to start.
I'll be getting my second tattoo this year. Not quite sure when, but it will happen.
I plan to take an actual vacation with Jason to someplace tropical. I have had very few vacations in my adult life and I want to start making this an annual tradition. This also means squeezing my ass into a swimsuit!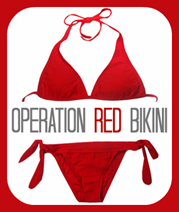 Now, that leads me to
Operation Red Bikini
.
Kassie
and
Elle Noel
are sponsoring this great movement for women to find their own "Red Bikini", whatever that might be. For me, I am going to focus less on the number on the scale and more on how I look and feel. I want to push myself more with running and strength training. I also want to love my body and be proud of how it looks. I'm not there yet, but I'm working on it.