First off, I'd like to say a huge thank you to everyone who participated in my link-up yesterday! It was a rousing success and I love reading everyone's name stories. I'm still trying to get through all the links, but have no fear, I will read them all! You can still link up through Friday so feel free to add your own story. I have enjoyed reading all these new blogs. So much fun. I'll have to do more of these.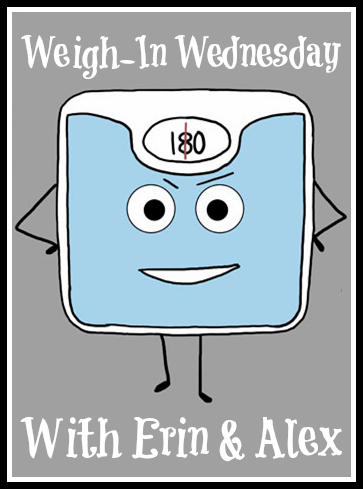 As you may have read
here
, I shunned my scale for the month of January. It felt so good not to stress over every little pound. However, I kept up with my running and did not go crazy with the unhealthy foods. Now for February, I set myself some new
goals
and I signed up for a new
Dietbet
so it is back to the scale again. Today, I am linking up with Erin & Alex to get back on the weight loss train. I did not weigh myself this morning, but my official beginning weight for the Dietbet on Monday was 145.6. Pretty damn good considering I started off January at 150 lbs. This also means that I am 10 lbs away from my original goal of 135! So, I just have to lose 5.8 lbs this month to win my Dietbet and hit the 40 lb mark. This is going to be my month, I can feel it.
I went downstairs to my old department at work on Monday to talk to someone and I saw a few people that I hadn't seen in a while. It was really great to hear them tell me that I looked fantastic and one woman didn't even recognize me at first! Quite the testament to how far I've come.
High School reunion July 2012 - about 169 lbs here
Same dress today - 145 lbs
These pictures really make me wish that I had started my journey earlier so I could have looked tons better at my reunion. However, I am proud that I did get that kick in the ass and I did start. It is never too late!