If you missed the epic hilarity of the first Finish the Sentence linkup, then you are in for a treat.
Holly
and
Jake
had such success that they decided to do it again!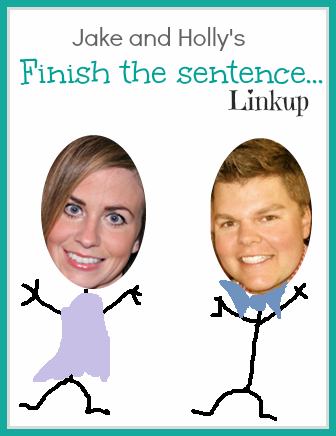 1. If calories didn't count, I would eat... Pretty much the same things I eat now. I honestly don't give a shit about calories. I used to track calories way back when I started to lose weight, but it got old really quickly. I know what works for me and I know what will make me feel like crap. I don't need to write down every piece of gum I put in my mouth.
2. On my Prom night.... I got to play referee between my boyfriend and my best friend who hated each other. I was so concerned about them having a good time that I couldn't loosen up and enjoy myself. I also chickened out of losing my V card so no motel room for this girl. Boy couldn't catch a break from me either since I broke up with him two months later on his birthday.
3. When I go to the store, I always buy... tomato sauce. We make homemade pizza at least once a week.
4. Family functions typically... are a lot of fun. I have a great family and we rarely have family drama. We won't talk about the time I flirted with my second or third cousin when I was 14.
5. I think my blog readers... are fabulous. I love being able to connect with people through my blog and I think it is so much fun to find things in common with people across the country.
6. I'd much rather be..... sleeping. I seriously never feel like I get enough sleep. I took a nap for the first time in months yesterday and it was amazing.
7. I have an obsession with.... The Amazing Race. I just discovered this show on Hulu and am working my way through each season. I honestly would love to be able to be on this show and travel around the world trying to win $1 million. Now, who can I talk into being on my team?
8. My work friends.... don't really know me all that well. I'm pretty quiet at work except with a few people so I don't get to know others that well. I haven't quite tapped into the whole networking thing yet.
9. When I created my Facebook account.... I used to check it obsessively from work until Big Brother shut that shit down and blocked the site.
10. My least favorite word is... chunk. It gives me the heebie jeebies just typing it.
11. I really don't remember.... what it's like to have small boobs. True story.
12. Justin Bieber.... I can take or leave. I'll admit to liking some of his songs and he doesn't seem to be quite the media whore that other celebrities are.
There you go! Now get your linkup on and join in the fun!