So, I'm super late in posting this today but I couldn't pass up a linkup with my girl,
Kimmy
.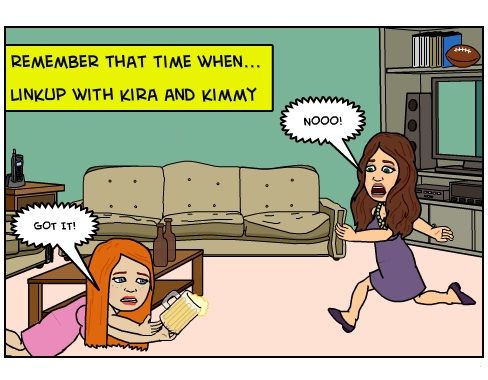 Remember that time when...
I killed a mouse with a poisoned Cheeto? Yep, I was sitting downstairs by myself one night after everyone else had gone to bed. I was reading so it was super quiet and I notice a mouse run across the living room floor. I am not afraid of mice at all so I was like, "Hmm, now what should I do?" I knew we didn't have any rat/mouse poison and absolutely no traps so I pondered on what would a mouse like to eat. Cheetos came to mind so I took one from the bag and sprayed that bad boy with some household cleaner (not organic). I then laid it on a plate and set it on the living room floor. The next morning the Cheeto was gone and the mouse was dead. I win.
Remember that time when...
I drove myself crazy for a week because I was convinced I had cancer? Last Thursday, I went for a routine check-up at the dermatologist's office and she found three moles that she did not like the looks of and ended up removing them. She said that she would have them analyzed and give me a call back within a week to let me know the results. Longest week of my life. I was pretty much convinced that I had melanoma and I was going to have to go through chemo and lose all my hair. That also explains my bad mood the past few days. However, I got a call back yesterday and all of the moles are benign. One of them has some unusual cells so she wants to go in and remove some more tissue, but otherwise everything is fine and I don't need to worry anymore that I have cancer. I just need to go in for annual checkups so they can keep an eye on my moles. I can't even tell you how relieved I am. I also had a good ugly cry yesterday which was pretty cathartic.
Winter weather is back to haunt me here in Missouri. I have a 5K on Saturday morning for Corporate Challenge and I'm going to PR that sucker, weather be damned! I'm also going to run the entire thing. I'm not going to try and run, I'm just going to run. It's all mental and I need to get out of my head and just do it.
Anyway, if you haven't linked up yet, what are you waiting for?