Today, I am linking up with
Holly
,
Chrissy
and
Lindsey
to share my favorite birthday story. Ironically, today is also my mother's birthday. She would have been 63 years old today. Happy Birthday Mom.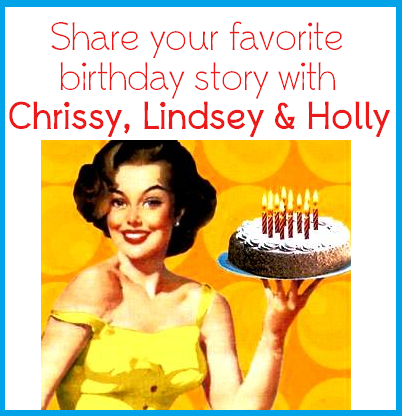 When I was growing up, my mom always did birthdays up big. However, the one and only time I ever had a surprise party was for my 18th birthday. My friends and I had just graduated from high school so my mom thought it would be a great idea to have a big party. My birthday is June 7, just in case you wanted to get your shopping done early.
My sister, Rachel and I had been staying at my dad's house for a few days and planned on driving back home the day of my birthday. My parents lived on opposite sides of Missouri so the 4 hour drive on I-70 was always a treat. We left on time and were enjoying the gorgeous sunny day when I started playing a little game of car tag with another car. Said car just happened to have two cute guys in it. We played this for a while until somehow we pulled off in Columbia and met in a park. (I'm still not even sure how it happened and oh my God, how naive were we?) We were just kind of talking and walking around a park and Rachel was getting super nervous. She, of course, knew all about the party and was freaking out that we were wasting so much time. Side note: this was before everyone had a cell phone so she had no way of contacting our Mom without raising suspicion.
She finally convinced me to leave, we weren't really into the guys that much anyway, and the rest of the trip proceeded without a hitch. I was extremely surprised when I walked into the party (two hours late) and so grateful that all my friends had not left. We had such a fun time and ended up having a huge water fight in the yard. I don't even remember any of the gifts that I got, just that it meant so much to me to have my friends and family there together laughing and having a good time.
Join the linkup! What is your favorite birthday story?